Amazing Nickel Quilts

Author Pat Seth


Bloom

Designer: Allison Jane Smith Bloom


Fab Five

2 Basic Quilts, 5 Seasonal Appliques, 9 Fabulous Quilts


Geared For Guys

Emily Herrick of Crazy Old Ladies


Graphic Mixx

Terry Atkinson


Journal Quilts

Celebrate a life record an event, capture the memory of a special place and time. Begin with a story and write it on a quilt to create a treasured expression of life. Create your own special "Journal Quilt"


Just 4 Fun

By Abby Lane Quilts


Let's Twist

Pinwheels...Fun, Fast and Easy


Lets Twist Again

More Pinwheels..More Fun....More Ideas


Livin' Large

Designed by: Heather Mulder Peterson.


Mad About Plaid

Teri Christopherson Get ready for mad plaid, stripes & checks! The simple shapes & colors of these quilts fit easily into any decor, and thanks to strip cutting & piecing, they are a snap to make. (Figuring out the quickest & easiest way to put them toge


Modern Basics

For anyone who loves the ides of quilting but is limited by budget, time, and space, here's the answer!


Precut Quilts

Janie Lou


School Spirit Quilts

A quilt is a treasured keepsake for anyone. Suprise your favorite athlete or coach with a quilt in your school colors.


Scrappy Firework Quilts

Edyta Sitar for Laundry Basket Quilts


Sew Red

Features stunning designs from more than 25 top sewing and quilting celebrities, along with three 28in x 40in black & white pattern sheets.


Simple Home

Stash Books


Stop, Drop and Roll

A Collection of Jelly Roll and Fat Quarter Friendly Projects


Sunday Morning Quilts

Sort, Store, and Use Every Last Bit of Your Treasured Fabrics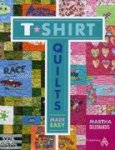 T-shirt Quilts Made Easy

Truly attractive quilts made from beloved T-shirts. After stabilizing the stretchy fabrics, Martha uses a "Comparative Quilt Design Chart" to show how to artfully arrange blocks of various sizes into a visually pleasing whole.


Teach Yourself to Machine-Quilt

You've rotary-cut and pieced your quilt--now it's time for the finishing touch. An inspiring gallery of machine-quilted examples and step-by-step photographs will ensure your quilting success.


The Quilter's Edge

Darlene Zimmerman gives you the edge on finishing your projects.