Abby's Treasure Box

Designed by Sherri Falls. This charm pack friendly pattern. Finished size is 3" x 3" x 6". The perfect box for kids treasures or your make-up, thread and scissors, etc.


Amanda's Purse

Designed by: Sherri Falls. Finished size is 10" x 5 1/2" x 3". This adorable bag is a part of the Little Scraps Series.


Bennington

Miss Rosie's Quilt Company - Measures 29"x 29"


Birdhouse Welcome

Bloom Creek- Finished Size 12"x28"


Charm Party Tote

Penny Sturges


Charming Totes

Designed to use those great Charm Packs


Clutter Bag

Designed By Sherri K. Falls Finished size is 9" x 10". The perfect bag for your makeup,game pieces, thread & sissors,etc. Uses charm squares.


Darned Cute Bag

A charm square pattern that's really cute! It's your chance to show off your patchwork style with easy piecing. Pretty pieced blocks and a turned down cuff make this a "darned cute bag"! This bag is sure to bring you compliments.


Flower Welcome

Bloom Creek - Finished Size 12"x 28"


Flowers in the Sunshine

Charm Square, Layer Cake & Fat Quarter Friendly


Four Corners

Miss Rosie's Quilt Company - Measures 33"x 33"


Little Charmers 5

Projects designed for 5" charm squares


Madeline

Miss Rosie's Quilt Company - Measures 28"x 28"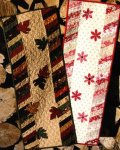 Packed With Charm

Finished Size 13"x 36"


Sew Charming

45" x 63" Pick your favorite charm packs to make this simple and darling quilt. easy piecing and applique make this a fun beginner quilt.


Sunday Best

Miss Rosie's Quilt Company - Measures 37"x 37"


Tag Along

11in x 12in